What is it About Sugar Sugar™?
Through Ten Years of Work, Trial, Effort and Analytics We've made Sugar Sugar a Sugar Waxing Money Maker that Clients LOVE.
April 28, 2022
How to Market Sugar Waxing (Part 1)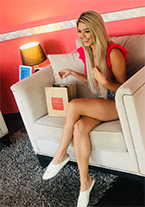 -by Aimee Blake
Did you know we've never done traditional advertising? It's true. Not even on those first few "scary days back in 2012 when no one know what sugar waxing was.
Maybe someday we will - on a national level. Better than not chance we will utilize William's background as a former Ad Agency owner and create and cultivate more traditional media campaigns. But from a "brick-and-mortar" perspective we weren't entirely sure it works for is. For one waxing franchise, it probably doesn't.
Most women are very leery of traditional advertising. They've been burned by gimmicks and fads. The last thing we want to do is be lumped in to false promises of the past. Typically traditional advertising depends on limited demographic research and a more of a "shotgun" approach. On top of this it is typically expensive and requires heavy commitments up front.
Instead we focus our advertising efforts by breaking each business opening into five steps. Each of those steps Represents a different time frame within the iteration of every Sugar Sugar. Each requires different marketing, research and activation. Those are important, and I'll get into those in the next blog post.
We also focus heavily on SEO, and effective local buildout from our national advertising and PR agency. We supply our franchisees content, direction and opportunity for your own Google My Business page, as well as enhanced target marketing to our social media account within your area. It's best to start advertising eight weeks prior to opening. That's our first of the five steps. Want to learn more? (Cont)